My apologies for missing DGM. I blame the Olympics hangover for keeping me dazed and unfocused yesterday (at least so far as dishy guys goes).

To make it up to you all, today I bring forth the Love in the Time of Dragons ARC contest! As something a little fun and different, the contest is going to require everyone to make a word cloud from a chunk of a favorite dragon book.

What's a word cloud? This is!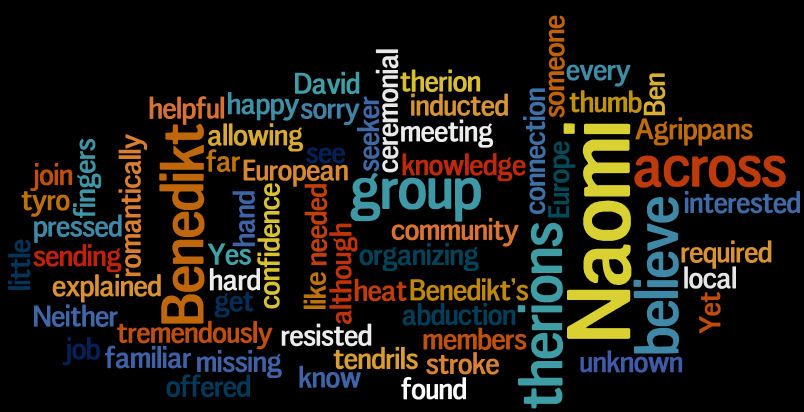 This is actually a word cloud based on a page of text from the upcoming Ben and Fran book, but it should give you an idea of what they look like. So how do you create one?

You visit wordle.net, a site that will create customized word clouds for you with just a couple clicks of the mouse. You can specify font and color scheme, layout, and all sorts of variables to create fun word clouds.



LOVE IN THE TIME OF DRAGONS ARC CONTEST


What: create a word cloud based on a paragraph or two of your favorite dragon book (you don't have to use wordle.net, but it's a handy site to create a word cloud).
When: contest runs from Tuesday, March 2 to Tuesday, March 23, 2010. Entries must be received by midnight on the 23rd.
Who: attach your wordle as a graphic (or link to it elsewhere) in an e-mail addressed to contest@katiemacalister.com
How: Ten entries will be randomly drawn to receive signed ARCs of Love in the Time of Dragons. You may enter only once.

Questions? No? Go forth and wordle!